FOUNDING CHAIRMAN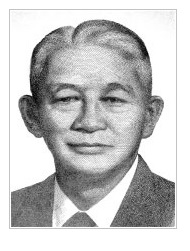 Meneleo Carlos, Sr. was a Filipino nationalist who aspired to contribute to the reconstruction of the Philippines through industrialization following the devastation the country suffered during World War II.He was a graduate of mechanical engineering at Cornell University, New York, USA in the 50s where he was a champion boxer. As an engineering professor at the University of the Philippines in the 1940s, Mr. Carlos encouraged his students to become entrepreneurs and professionals. MC, as he was fondly called, became one and sowed the seed for the establishment of several business enterprises in the country.
He set up Resins Inc, a chemical plant that manufactured coating resins, Philight Inc., an engineering and electrical company which, after the war, undertook several projects for the reconstruction of post-war Manila, Golden Ribbon Lumber Co. and Polymer Products Inc.
MC enjoyed tinkering with cars and in machine shops. He also enjoyed the outdoors, taking time out for hunting, fishing, boat racing and even flying. He loved his family and inculcated to his children the importance of education.
In all his undertakings, what he valued most were honesty, dedication and fairness.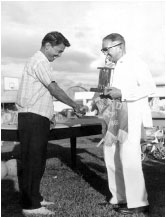 Meneleo Carlos, Sr.
graces awarding ceremony
For Resins'Basketball Torunament
(1950s)