COMPANY PROFILE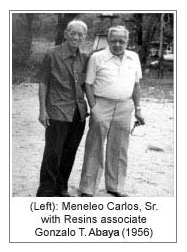 Resins Inc. is a Philippine-based group of companies that offers better customer value through innovative ideas, processes and products. Our products and services benefit key industries such as plywood, woodworking, adhesives, coatings, plastics, shipbuilding and repair, insurance, agri-chemicals and construction.
The company was founded in 1955 by the late Mr. Meneleo Carlos, Sr., an engineer and entrepreneur, who was committed to the industrialization of the Philippines following its devastation during World War II. His son, Meneleo Carlos, Jr. now sits as president and CEO of the company and continues to pursue that commitment.
Resins Inc has more than 50 years of tradition in manufacturing, with a passion for technology innovations , and driven to deliver high customer value and business value, and its long-term commitment to safeguard the country's environment and promote the well being of its citizens.
In his speech at the 50th-year anniversary of Resins Inc in 2005, Mr. Carlos said that the corporate values of teamwork, integrity, professionalism, dynamism and candor remain the key anchors in the company's efforts " to continue winning amidst the rising global challenges that we now face."
With its main office located in Pasig City, Philippines, Resins Inc. has 500 employees, consultants and contractuals employed with its group of companies.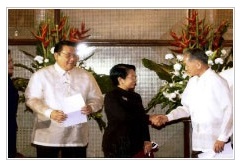 (Left): Meneleo Carlos, Jr.
meets Philippine President
Gloria Macapagal Arroyo during
his induction as chairman of the
Federation of Philippine Industries (2008)