Responsible educational composing assistance is continuously all set to guidance college students because of their show results. Get essay composed by specialized and professional essay authors .
Dec 18, 2015
The public must be told that "the wood industry is the savior of the world," declared Resins Inc. President and Federation of Philippine Industries Chairman Emeritus Meneleo J. Carlos Jr. in a speech before the Philippine Wood Producers Association during the 64th Annual General Assembly of PWPA members last November 25 at the MAN Truck and Bus Center Multi-Purpose Hall.
Noting the ability of trees to fight climate change by capturing carbon dioxide, the greenhouse gas which mainly causes global warming, and keeping the carbon trapped when converted into wood, Mr. Carlos urged the wood producers to "make wood a permanent storehouse, not a temporary storehouse, of carbon dioxide. Please do not make plywood that delaminates and decays to release greenhouse gas again."


To support his assertion that trees and wood will save the world from climate change, Mr. Carlos presented a chart by the Climate Change Commission of the Philippines showing that in 2010, a total of 155.1 million tons of carbon emissions were caused by agriculture, energy, transportation, industrial processes and waste, but 83.2 million tons of carbon removals and capture were achieved by land use change and forestry.
Thus, he estimated that in the Philippines, carbon capture is from 20 to 30% as compared to 11% or 17% in more developed countries. This therefore gives the country more room to industrialize "to have cheap power" by using coal, so long as more trees are planted and replanted.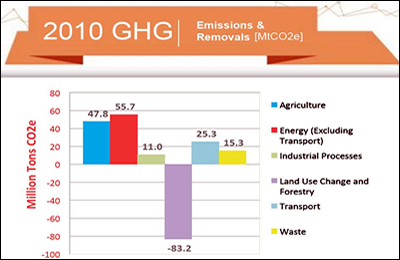 Explaining that "biomass really is the capture of carbon dioxide converted into wood," Mr, Carlos remarked that the "bottomline" is that "we have to be more productive" and "create more biomass" through forestry. "We need our natural forests for our biodiversity, but we also need to have production forests that are efficient in what they are doing in producing more and more biomass," he said.
"When the trees in natural forests become old, how much more carbon dioxide can they take? How much more can they help in preventing climate change, preventing greenhouse gases?" Mr. Carlos asked the wood producers. "It is really the production forests that will have to do the job."
RI Chemical Corporation subsidiary Claveria Tree Nursery Inc., which clones fast-growing trees for faster and bigger yields for tree farmers, has been promoting production forests for small farmers by establishing barangay nurseries in North Cotabato and Bukidnon.
Mr. Carlos also stressed his advocacy to give the small farmers and indigenous people tenurial rights to the trees they will plant, noting that planting trees is "not a matter of just sticking a tree in the ground and saying this is it, I'm finished. It really needs someone to stay there, not high school kids being made to plant, and then a photo op. And that is why I am saying, let's give the people there who live there a break by giving them tenurial rights, so that trees they plant are really theirs… I advocate long-term contracts because this is in the belief that if you have something securely yours for a long time, you will develop it. You will not destroy it."
He declared that "it's not a criminal act to cut down trees, provided you plant, and you will plant provided the government tells you you're going to be able to harvest what you plant, and so you continue to plant and propagate trees… That's the winning cycle." He concluded his message by assuring the wood producers that "we are the heroes."
Mr. Carlos and RI Chem received plaques of appreciation from PWPA president Charlie Liu. Joining Mr. Carlos to accept the plaques was RI Chem VP-Finance Carolina R. Carlos.