Inclusive Growth Needed to Address Poverty
Aug 29, 2012Resins Inc. President Meneleo J. Carlos Jr., in his capacity as National Co-Chairman of the Bishops-Businessmen's Conference for Human Development (BBC) for the last two years, chaired the 36th BBC General Assembly and Annual Meeting last July 9 with the theme "Inclusive Growth: Socio-Economic Development for All." The general assembly, held at the Pope Pius XII Catholic Center in Manila, reflected the continuing response of the Church and the business sector to the government's call for cooperation to address poverty in our country.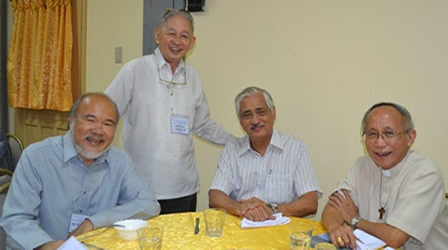 Mr. Carlos reported to the assembly the current initiatives of BBC that centered on its identified priority areas of concern: corruption, environment, urban poverty, rural poverty, social justice and peace building.
He said that in order for the Church, business and government to effectively address the call for inclusive growth, BBC saw the need to consult some of the basic sectors of the society, such as the farmers, fisherfolk, indigenous peoples, urban poor and labor.
Among the speakers were Socio-Economic Planning Secretary Arsenio M. Balisacan, Archbishop Orlando B. Quevedo, Makati Business Club Chairman Ramon R. del Rosario Jr.
and Asian Institute of Management Professor Mario Antonio G. Lopez.
Sec. Balisacan cited the government's social contract emphasizing the need for transparent and participatory governance, poverty reduction and empowerment of the poor, inclusive and sustained economic growth, just and lasting peace and the rule of law, and climate change mitigation and adaptation.
Archbishop Quevedo, said the Church viewed inclusive growth as the development of each person and holistic growth that includes the economic, social, political, cultural and the spiritual care of God's creation. He said his vision of development involves removing the economic gaps of society and providing equal opportunities for men and women
Mr. del Rosario recognized that poverty is the country's biggest problem and believed the acknowledged causes of the government, business and Church sectors – education reform, transparency, infrastructure development, environmental protection, etc. — must be for the uplift of the human situation of the Filipino poor.
Professor Lopez mentioned the following principles to sum up the annual meeting: equality, unity, conscience, humility, admission of faults, respect for others and change of views. He said the synthesis will be made into a matrix to illustrate what had transpired in the assembly.
At the First Philippine Manufacturers and Producers Summit held last November, where he participated as Chairman Emeritus of the Federation of Philippine Industries, Mr. Carlos cited "inclusive growth" or "growth for all" as a "principal objective" of the industry sector, noting how linkages between manufacturers and the basic sectors have "produced the inclusive growth that has characterized the economies of Thailand, Indonesia and Vietnam."